最新版高画质Best Media合家欢卡拉OK机 BM-4000 (6T / 可选12T)
全新超世代4K卡拉OK 播放器, 集合了最尖端的科技, 最新穎的功能 最簡易順手的操作介面 最大的硬碟容量 和最好聽的音樂 帶給您最真實動聽的好歌曲和極致歡唱的享受!
  · "雙抽取式"硬碟 最大支援至 12TB容量 空間大 歌曲曲目多 影音品質佳
  · 完整的KTV歌庫 中港台星馬舊歌新歌應有盡有 歌唱比賽歌曲和演唱會表演皆涵蓋
  · 內建 Wifi 雲端上網, 雲端下載歌曲和新歌
  · 支援 iPad iPhone 和 Android 的平板 手機等裝置無線遙控機器點歌
  · 支援 4K畫質顯示於4K電視螢幕 (需4K內容) 向下相容 FHD1080P, 支援RCA Output
  · 支援光纖音訊輸出 (請注意此功能無法使用在卡拉OK混音和升降音功能上)
  · USB 3.0 快速錄歌進機器硬碟內 用戶可透過 USB 3.0自錄歌曲 (可自由增刪歌曲)
  · Voice Recording, 將您唱的聲音錄製到硬碟或是 USB 隨身碟上
  (可錄製從BM-4000麥克風輸入孔的聲音 或是從擴大機等專業混音裝置發出的麥克風聲音)
  · 獨家支援特定流行曲目段落教唱功能 可重複練唱一首歌的某段落而不需整首歌重唱
  · 支援繁體中文介面 簡體中文 英文 以及越南文介面操作
  · 歌曲評分功能讓唱歌更歡樂, 支援簡繁手寫快搜 注音快搜 和拼音快搜
  · 支援儲存我的最愛 歌詞快搜(特定流行曲目) 和歌曲預覽(需選購觸摸屏)
  · 選購 19吋 或 22吋大螢幕觸摸屏 (將客廳變成KTV 包房)
系统不含歌本,可联系经销商额外购买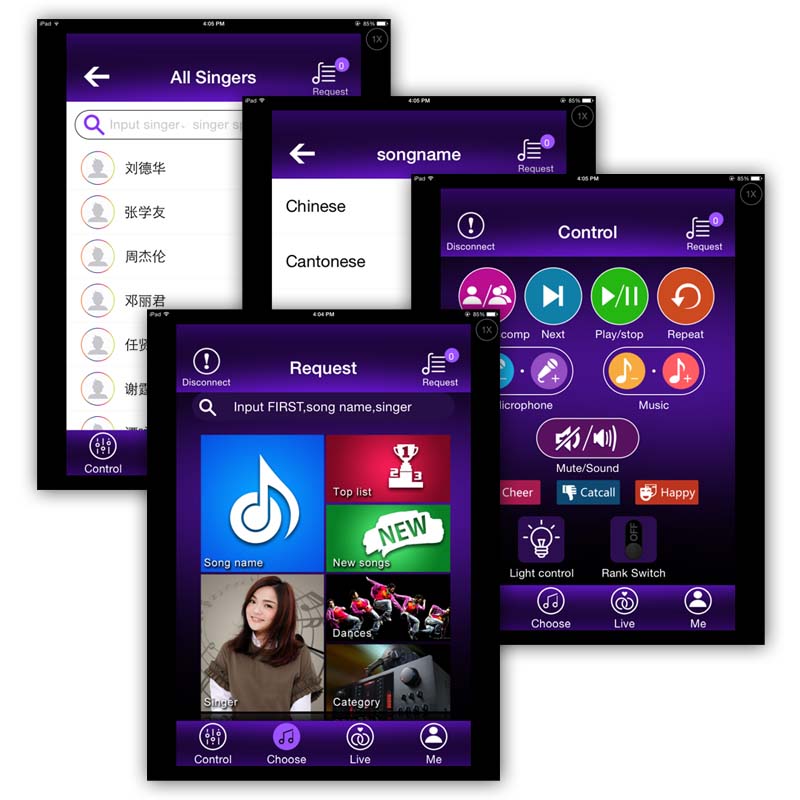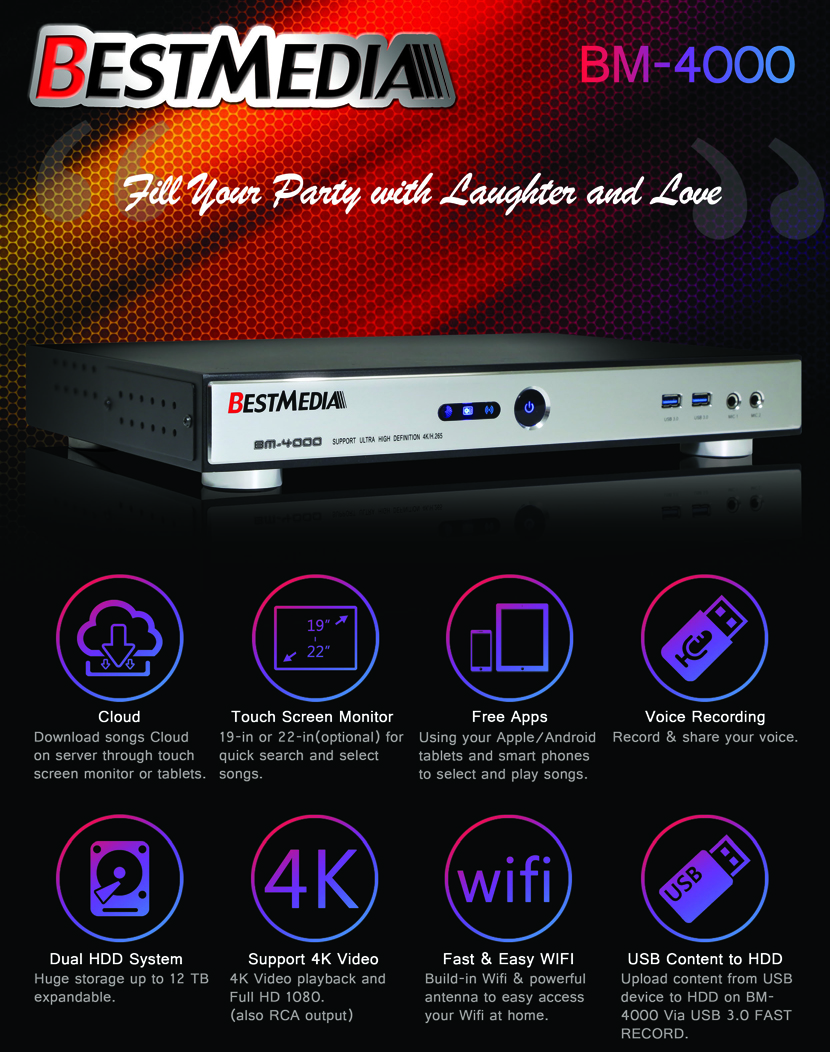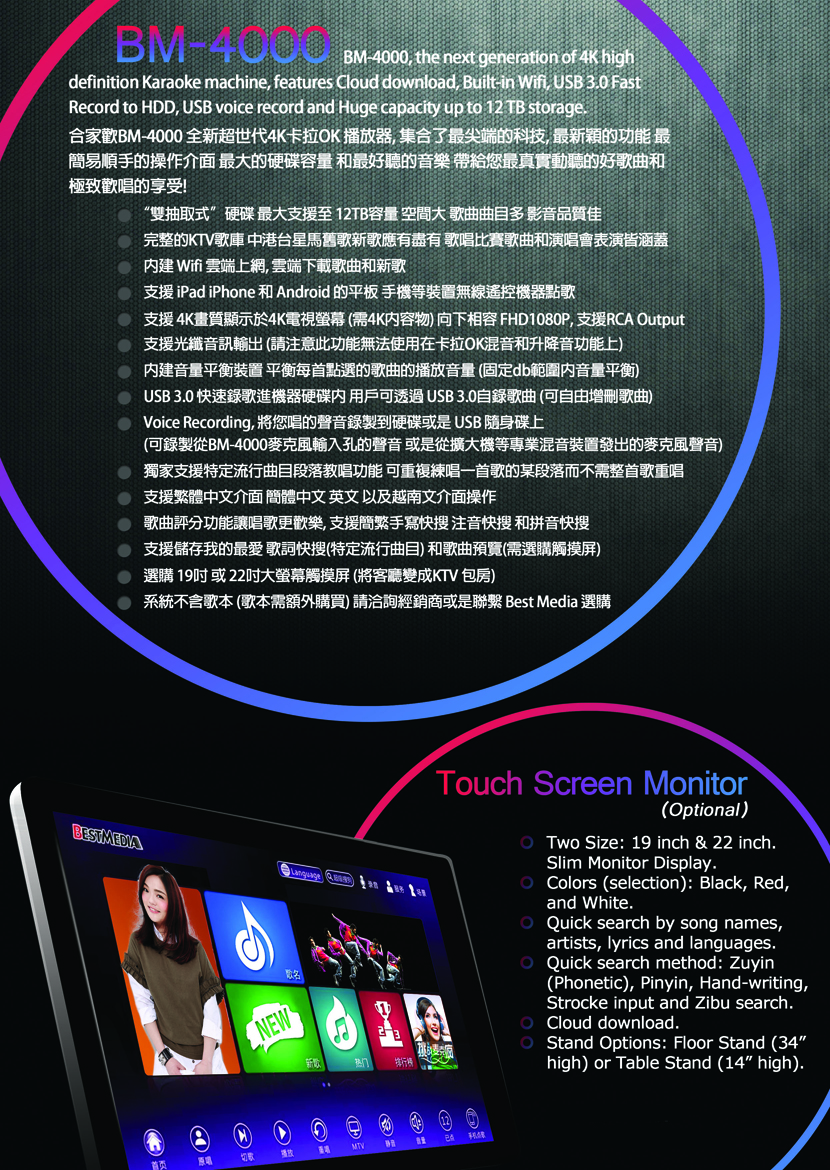 2018 Best Media BM-4000 - Chinese 6TB

BM-4000 is finally released to the market with the extreme large storage of serving up to 12.0 TB. With this large size of storage, you will have a huge library of song selections, and up to 75,000 high quality songs. For your convenience, this player is designed with both HDD removable case, so you can easily access and swap another hard drive of your choice. Moreover, you not only use your tablet or mobile device as the controller to search for songs, you will able to access to the cloud server list to download new songs. If tablet control is not enough, you can upgrade to a 19-inch or 22-inch Touch Screen to make your home karaoke system into a real KTV system.

Thus, BM-4000 Karaoke System is not only suitable for KTV Room, but also can served as home-based private KTV system. You can enjoy singing karaoke at home with your beloved family and friends just as you are in the KTV room. Featuring with recording your own voice practice singing sentence by sentence also help you to get ready for contest or shows. Then, you can record songs into the USB for singing contest.

Features:

- Built-in 2 x 3.0 TB Hard Drives
- Support 2 Removable HDDs, up to 12.0 TB, extreme large storage
【
12TB HDD upon request only – 56,000 songs but in better picture qulaity
】
- Up to 75,000 high quality songs with 80% original KTV
- Support 4K Movie, and HD Full 1080p HDMI for both Audio and Video output
- Quickly add songs into HDD through via 3.0 USB port
- Practice and record your own voice into the USB
- Feature practice singing sentence by sentence.
- Easy access to Cloud server for more new and updated songs (via tablet or touch screen)
- Multi song Language includes: Mandarin, Cantonese, Taiwanese, Japanese, English, Kejia and Korean
- Multi way of song selection: search by song number, artist's name, song's title, and song's categories
- Select songs and controlled using iPad/Android (app available on our website)
- Multi Language Interface: English, Traditional Chinese, and Simplified Chinese
- Support Format: MPEG, MPEG2, MPEG4, DAT, VOB, AVI, WMN, MKV, FLV,WAV,AP3, JPEG, GIF, PNG
- Compatible with 19-inch or 22-inch Touch Screen (optional item, purchase separately)


Specifications

Dimension: 17" L x 11.1" W x 2.7" H
Power Supply: 100V~240V
Weight: 8.2 lbs (3.7 kg)
Frequency Response: 20Hz~20KHz
Audio Output: HDMI, AV (Composit), Optical, Coaxial
Video Output: HDMI, AV (Composit)
Ethernet Network Interface x 1
USB 3.0 Port x 2 (Front)
USB 2.0 Port x 1(Back)
Microphone Output x 2
VGA Output: RGB, Monitor


Two Year Manufacturer Warranty
---------------------------------------
Package includes: ( 2HDD )

1 x BM-4000 Chinese Karaoke System (6.0 TB)
1 x Remote Control English
1 x RCA Cable
1 x HDMI Cable
1 x Power Adapter

SONG BOOK PURCHASE SEPARATELY


---
最新版高画质Best Media合家欢卡拉OK机 BM-4000 (6T/可选12T) 【限时加送 Audio2000'S 6023 VHF Dual Channel 无线话筒】
USD$1,549.00

USD$1,099.00
---
标签: Best Media Karaoke machine BM-4000 BM4000 Chinese KTV Player 卡拉OK机 点唱机 伴唱机 单硬盘 双硬盘
---